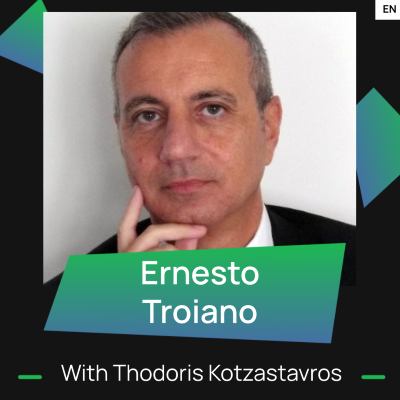 Ernesto Troiano, Project Manager of Infinitech – H2020, discuss with Theodoris Kotzastavros from Crowdpolicy, about the Infinitech project, its goals and the vision for the future of finance in Europe and around the world.
Short Bio:
Ernesto's background and professional skills are balanced between strong technical knowledge and business and marketing expertise matured in different industrial domains and large infrastructures for Traffic, Security and Communication. He is a senior manager in GFT Group, a pioneer for digital transformation GFT develops sustainable solutions across new technologies. Ernesto is the project manager of INFINITECH, a joint effort of global leaders in ICT and finance towards lowering the barriers for BigData/IoT/AI driven innovation, boosting regulatory compliance and stimulating additional investments.
INFINITECH provides:
Novel BigData/IoT technologies for seamless management and querying of all types of data interoperable data analytics, blockchain-based data sharing, real-time analytics, as well as libraries of advanced AI algorithms.
Regulatory tools incorporating various data governance capabilities and facilitating compliance to regulations (e.g., PSD2, 4AMLD, MIFiD II).
Nine novel and configurable testbeds & sandboxes, each one offering Open APIs and other resources for validating autonomous and personalized solutions, including a unique collection of data assets for finance/insurance.
The project provides a 360° coverage to fully leverage the benefits of IoT, Big Data and AI in the financial and insurance sectors. Specifically:
Reference Architecture & Blueprints for BigData, IoT and AI applications
Interoperability & Data Exchange solu­tion
Seamless Data Management & Real- time Analytics – OpenAPIs
Experimentation facilities (testbeds & sandboxes)
Advanced Business Models, Market platform & VDIH
A whole new range of SHARP (Smart, Holistic, Autonomy, Personalized and Regulatory Compliance) applications, with a shift towards autonomous (i.e. automated and intelligent) processes
Catalyst for increased investments in BigData & IoT Digital Finance Applica­tions
Lower & fewer barriers to Innovation and experimentation leading to shorter Innovation cycles
Flexible and cost-effective regulatory compliance
More Information: