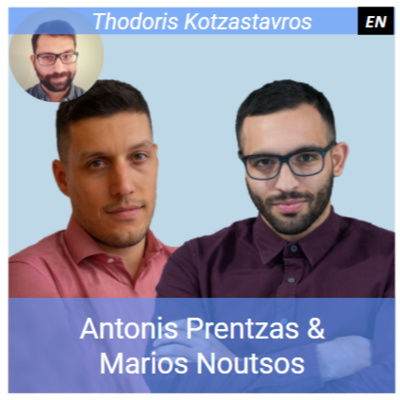 Antonis Prentzas and Marios Noutsos discuss with Theodoris Kotzastavros, about the environment around payments, fintech and the future of e-commerce.
Finloup, a VC-backed fintech offering interest-free credit, powered by Open Banking. Finloup is the 1st Buy Now Pay Later Provider in Greece! Access to fair credit is a human right. Finloup was born to eradicate the toxic loop of bad credit. Using its technology and Open Banking, it offers fair credit options to consumers at any checkout.
Antonis Prentzas is co-founder & CEO at Finloup. He has worked as a Strategy Consultant for Financial Services at Accenture, where he managed, from day 1, the Open Banking implementation for a Greek systemic Bank. Before that, he worked as a Digital Project Manager at ATCOM, leading a development team for the then biggest company's account. He holds a MEng in Civil Engineering from the Engineering School of University of Patras. Having a GMAT score of 760 (top 1%), he secured a full scholarship for the international MBA at Athens University of Economics & Business. Inherently curious, passionate about working on "unsolvable" problems.
Marios Noutsos is the co-founder & COO at Finloup. He has worked as an Investment Associate at Zoia, a private equity fund focused on distressed real estate where he led buy- and sell-side processes worth over €100M. Before that he worked at Octane, a boutique management consulting firm, where he focused on financial services strategy and operations projects in the non-performing loans market. He holds a BSc in Business Economics with Mathematics from the University of East London. Provocatively passionate about creating solutions that tackle real-world financial inclusion problems.
More Information:
Finloup Website:
https://finloup.com/el/
Finloup Linkedin:
https://www.linkedin.com/company/finloup/
Antonis Prentzas Linkedin:
https://www.linkedin.com/in/antonis-prentzas/
Marios Noutsos Linkedin:
https://www.linkedin.com/in/nmarios/